Latest News
Summer 2023: Progress in our Projects
After no little delay in the shipment of our container to DR Congo, we encountered worker's strikes and broken down cranes in the port on the receiving end. Yet, we are grateful to report that the container has at last been received into Kinshasa, and the contents are safely stored whilst we proceed with finishing the lab.
The contractors were able to finish the work on the roof of the building, so that the inside work of finishing can be carried on now, rain or shine. Dieudonné is working closely with the contractors, finding bids for plumbing, electrical, doors, windows and other essential tasks. We are very much hoping to have the clinic finished in the next two months, as our storage space will not be available after that time.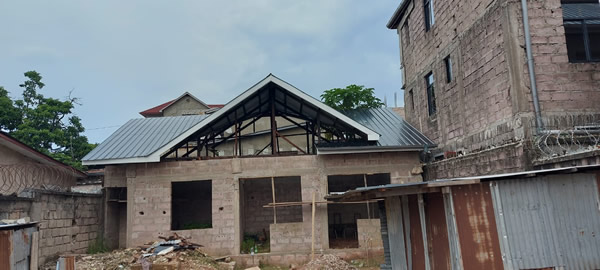 ---
Spring 2023: Taking Shape for the Future
Since losing our first clinic to fire in the Summer of 2020, we have been considering how best to go forward with facilities on the ground in DR Congo. It was decided that the most conducive investment for the future outreach of Mission for Vision would involve the construction of a lab/base, where prescription spectacles could be made to meet specific needs after outreach in Kinshasa and the greater outlying area.
After a slow start in the Autumn of 2022, and a pause for the rainy season, the lab is now taking shape. We feel grateful for connections to a reputable construction company who are overseeing this project with the help of our trustee. Once the roof is in place, the work of finishing the lab can begin.
Meanwhile, the container that was shipped has met with some delays due to port closures and strikes. And so we wait and pray for the resolve and delivery, all in good time.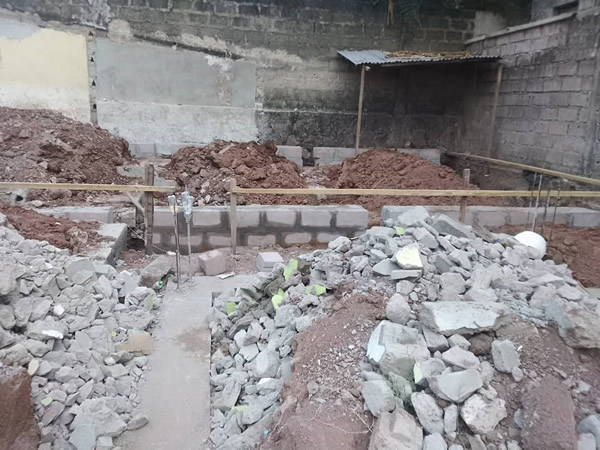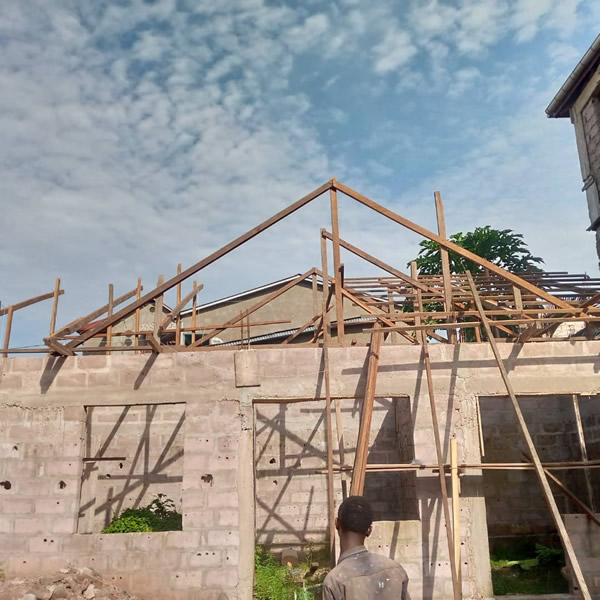 ---
September 2022: Thank you!
As we prepare to ship a 40 foot container to Africa, we'd like to give a big shout out to our partners at Red Eyewear for their recent donation of reading glasses and optical frames.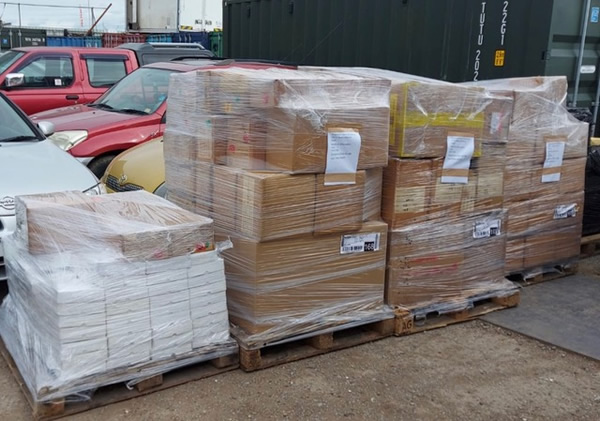 Likewise, to Sapphire Eyewear for their donation of hundreds of Blue Light frames through their buy-one-donate-one scheme.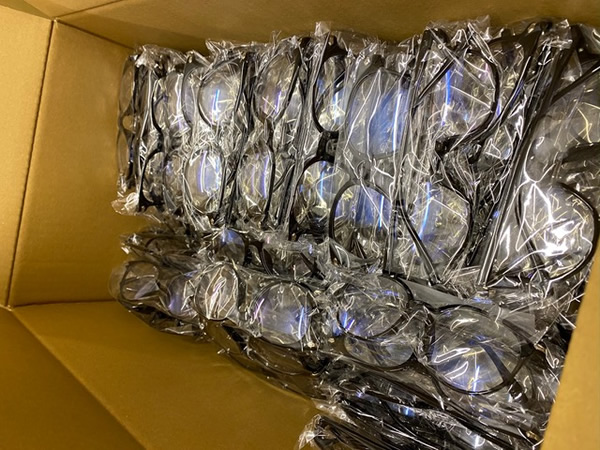 In addition, heartfelt thanks to new friends at Mondottica Eyewear for their donation of over 650 optical frames.
---
July 2022: Melina Joy Opticians
Thanks to our friends at Melina Joy Opticians in Heathfield for the valuable donation of a Visual Field machine!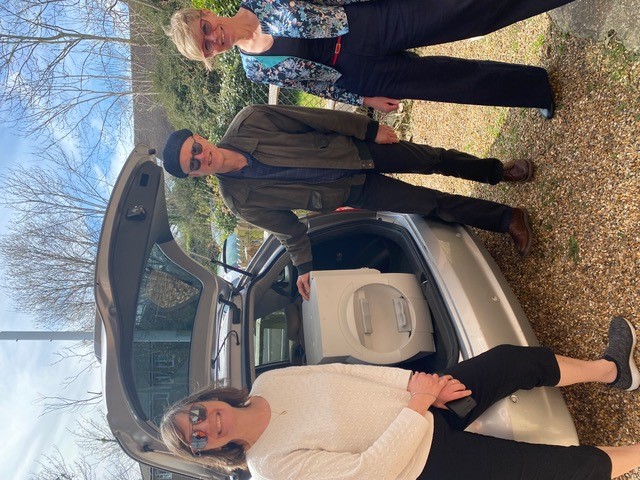 ---
June 2021: Hospice Saint Pierre
---
June 2021: Village Mboka Polo
---
August 2020: Future Missions
The December trip to Matadi and the idea of a mobile unit remains fresh in our minds. It seems that we have an indication of the way forward. It is practically beginning from zero again, but we have had remarkable help come forward already with friends joining in the search for equipment to fit out a mobile eye clinic, etc.
And so, we pray our way forward.
---
June 2020
After the arrival of Covid-19 the work of Mission for Vision slowed down drastically. International travel was largely suspended and the donation of charity goods all but stopped. Like the opticians in the UK, the Kinshasa eye clinic also had to close its doors to help prevent the spread of the virus.
The Kinshasa team called us on June 2 to say that the clinic had caught fire, burned through the night, and by morning was completely destroyed. We are very grateful that no one was injured in the fire.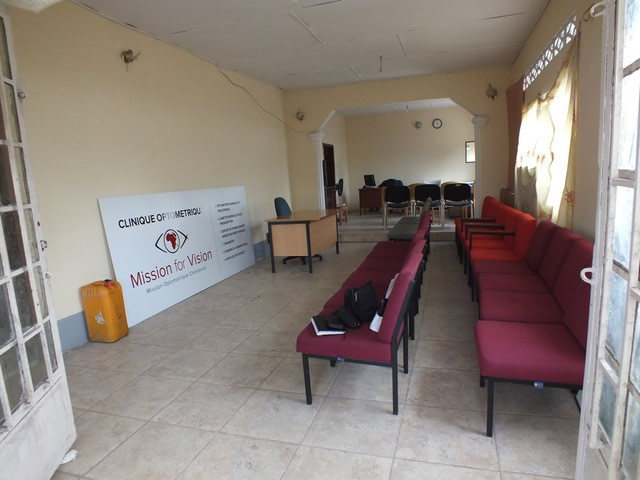 Before - just before opening in 2015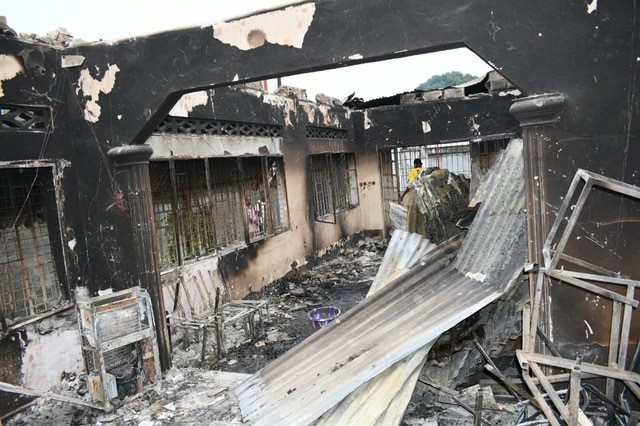 After - 03 June 2020
This loss seems to have struck at the core of all that we have done for eye care these last 5 years. It means the loss of employment for the local people who were trained through and for the clinic. Our thoughts and prayers are with them all.
The overwhelming message that was coming from contacts in Kinshasa was not so much grief for the loss of the clinic as much as overflowing appreciation for the services that have been received there. In our sadness this has been a great comfort.
It is suspected that the fire started due to an electrical fault. At present there are no plans to rebuild the structure.
---
March 2020
March 9 Dieudonne returned to Kinshasa to carry on the work of supporting the clinic. His scheduled return March 31st was disrupted by Covid-19, locking him down for a further 6 weeks. We thank God that a government charter flight brought him home to the UK May 14th.
---
Winter 2019
In December Dieudonné returned to DRC and drove with a small team the ten hours to Matadi. Messages went out on radio and television advertising a one day outreach to the albino community. Hundreds of new sunglasses donated by Red Eyewear were given out to provide protection from the intense sun. Since a person with this condition does not have the natural protection of the pigment present in the eyes the full spectrum of light is allowed in, and is quickly detrimental to the sight. Many other people from the city came out for the outreach as well. When asked about what eye care they had been given, people replied that they had travelled to Kimpese, half the distance back up the road toward Kinshasa. Although Matadi is the larger city, Kimpese is the nearest place for people to go for eye care, yet it was clear that the care they had been given was limited.
Travelling so far outside Kinshasa opened up new ways of thinking. It is fairly good road between Kinshasa and Matadi, with many villages here and there along the side of the road. Dieudonné began to consider putting together a mobile eye care unit. The five years in Kinshasa have been very good. But it's time to utilise that as a base and begin to reach out to other more remote towns and villages.
---
Autumn 2019
In the first week of August Dieudonné interrupted his Kinshasa trip to join the family and MfV team to represent the charity at Creation Fest UK. He returned to Kinshasa in late August to receive a shipment of supplies and equipment. A Vision Field machine kindly donated by Sims Opticians, Teddington, proved to be a timely gift. A patient came to the clinic complaining of having constant headaches over the past several months. Dieudonné tested his visual field and discovered the tell-tale signs of a brain tumour. He referred the patient to a neurologist who put a treatment plan in place. Without the vision field check the tumour would have gone undetected and proven fatal. The Vision Field machine is a significant tool for such cases and has numerous other applications. It was a great leap forward for the clinic to be equipped with this machine. The shipment also served to replenish the clinic's supply of used prescription frames and reading glasses.
Another important pursuit during this trip was the leafleting of a wider area around the clinic to invite people to come for eye checks. In the Summer of 2019 extensive road works were started across the city and have greatly disrupted the work of the clinic, so it seemed good to put out leaflets to see if we could draw in more people.
During this trip, Dieudonné received an invitation to visit an albino community in Matadi, approximately 350 km Southwest of Kinshasa. Pastor Michael saw a Mission for Vision outreach to a Kinshasa albino community televised in 2017. He called the clinic and requested a visit to his city. Pastor Michael notified the mayor of Matadi, who booked a venue for an optical outreach in December. Dieudonné will also use the opportunity for community education through radio and television, educating people about glaucoma, diabetes and general eye care. The goal is to raise public awareness of eye health.
---
Summer 2019
After preparing a partial container for the Kinshasa clinic at the end of June, our optometrist, Dieudonne Lumbi travelled out to DR Congo in early July to support the work of the clinic, complete the training of two national eye care workers, and receive the shipment mid-September.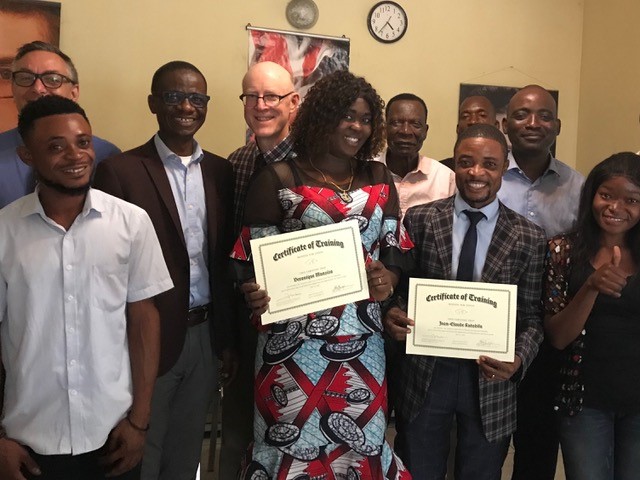 The last week of July Dieudonne was joined by pastors Rob Dingman and Loren Combs who brought additional reading glasses and materials for two pastors training conferences.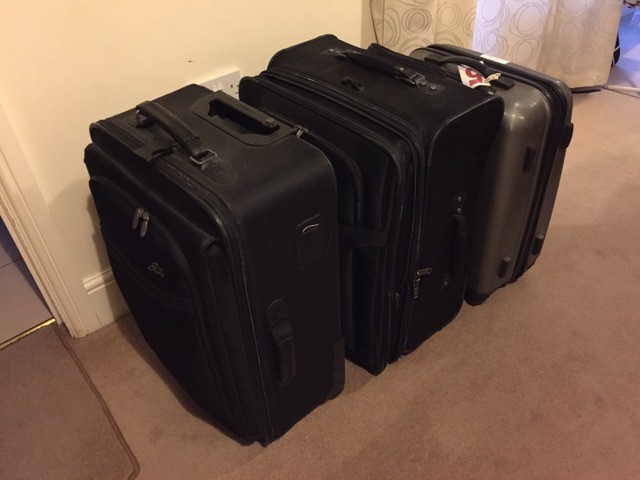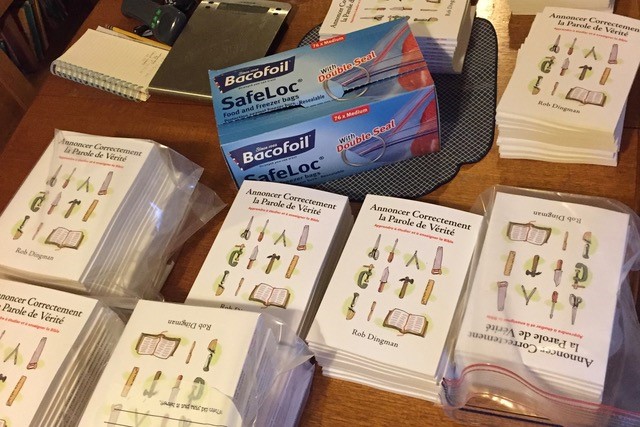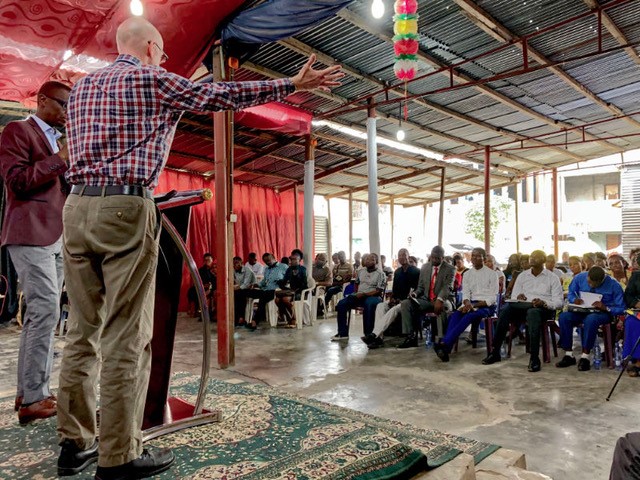 After completing the conferences, they travelled to a farm an hour outside of Kinshasa to bring eye care to the community of a local farmer who has been involved in supporting the work of the clinic in Kinshasa for some time. Dieudonne and Jean-Claude were able to give eye screening and glasses to 89 people. Sadly, four people already had eye conditions that were beyond help. It was a long, rewarding day. This outreach was the first that we have been able to do from the base of the permanent clinic, and represents years of planning and prayer toward this end. We are very grateful to have come this far towards helping people who have otherwise no access to eye care.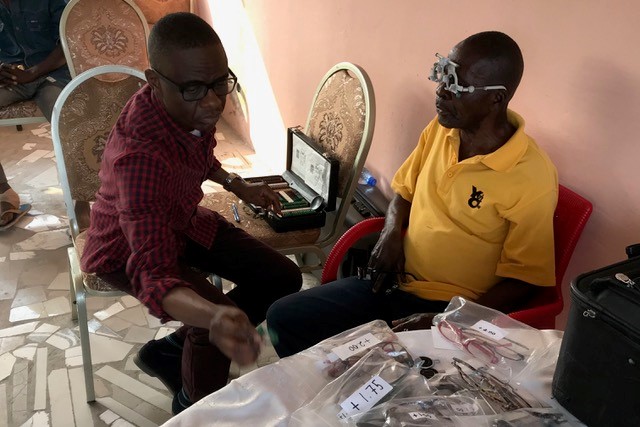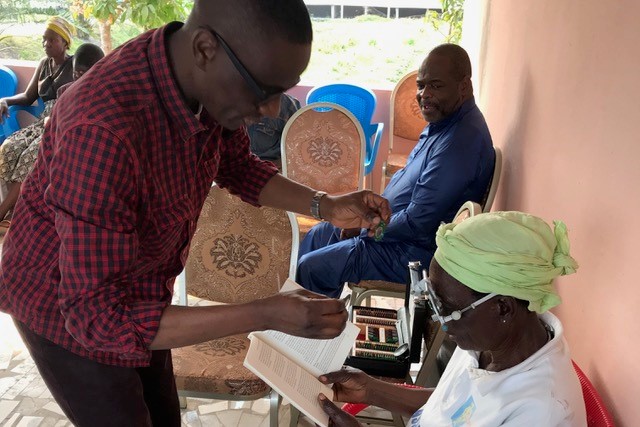 Meanwhile, the team in the UK was preparing for our first visit as exhibitors to Creation Fest UK, where we were able to make the work of the charity known and meet some new partners for the future. It has been an exciting and fruitful Summer.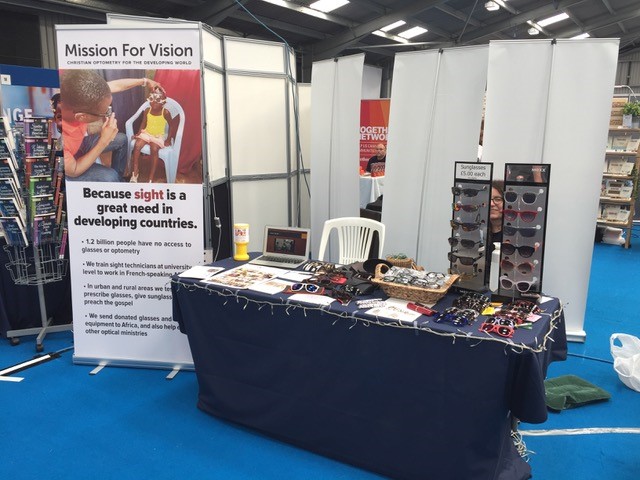 ---
Autumn 2018: Kinshasa Clinic - Rewarding Progress
On his Autumn 2018 visit, Dieudonné was able to get the CFOAC students through the rest of their theoretical teaching.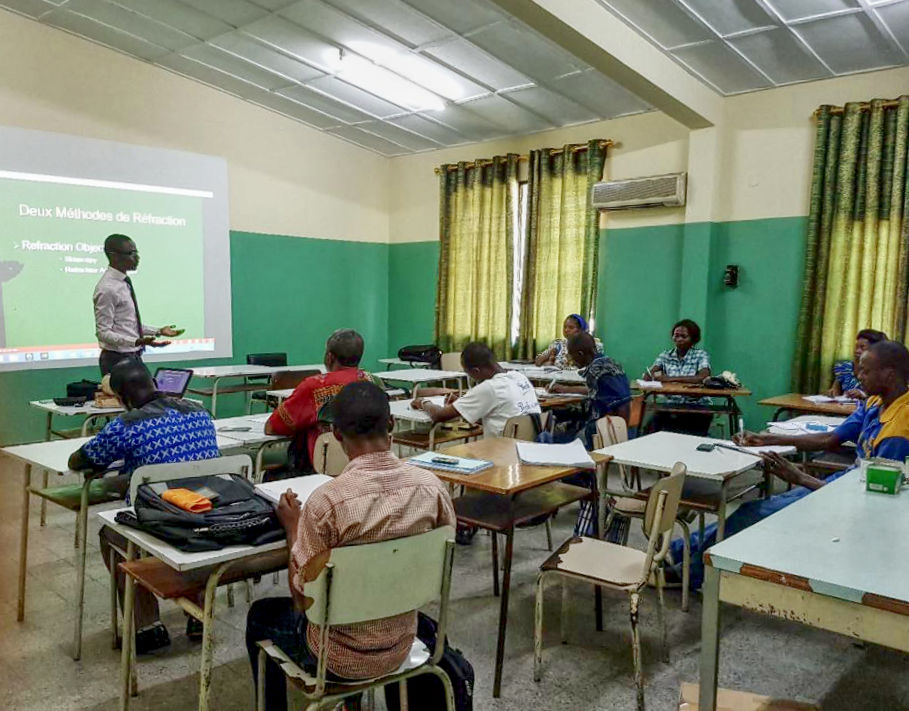 Then he gave them practical hands-on training at the Mission for Vision clinic, and gave them their exams.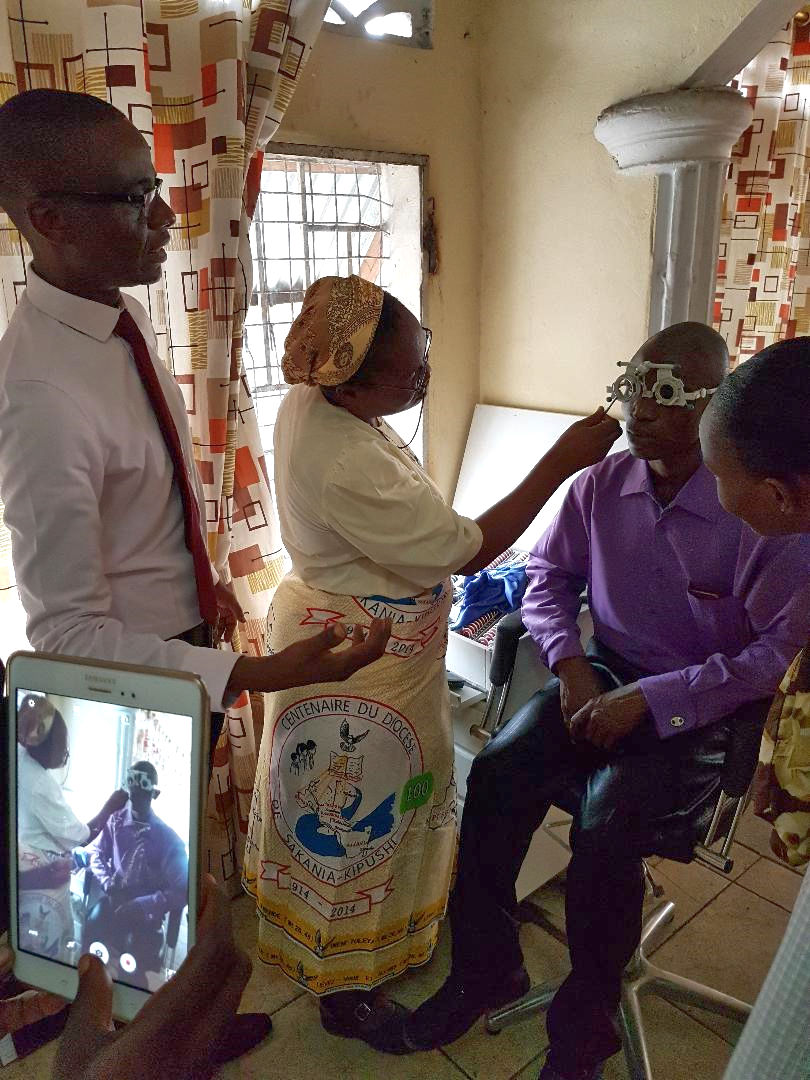 It was rewarding to contribute to this group's graduation, knowing that they would be taking their training back to various provinces of D.R. Congo and other French-speaking African nations.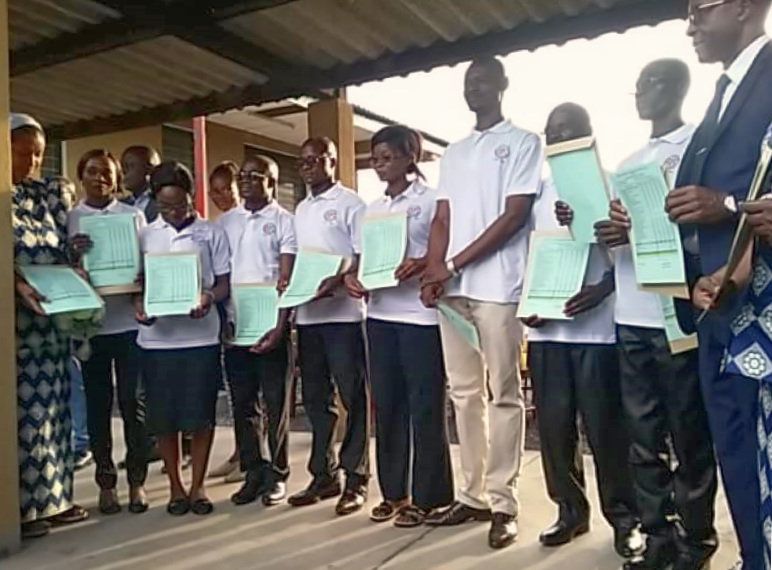 Another encouraging event at that time was the government's first-time participation in World Sight Day October 11, 2018. This indicates the rising awareness about eye care in the country. Dieudonné is pictured with Dr. Josette Ilunga, head of Eye and Vision Health at the D.R. Congo Ministry of Health.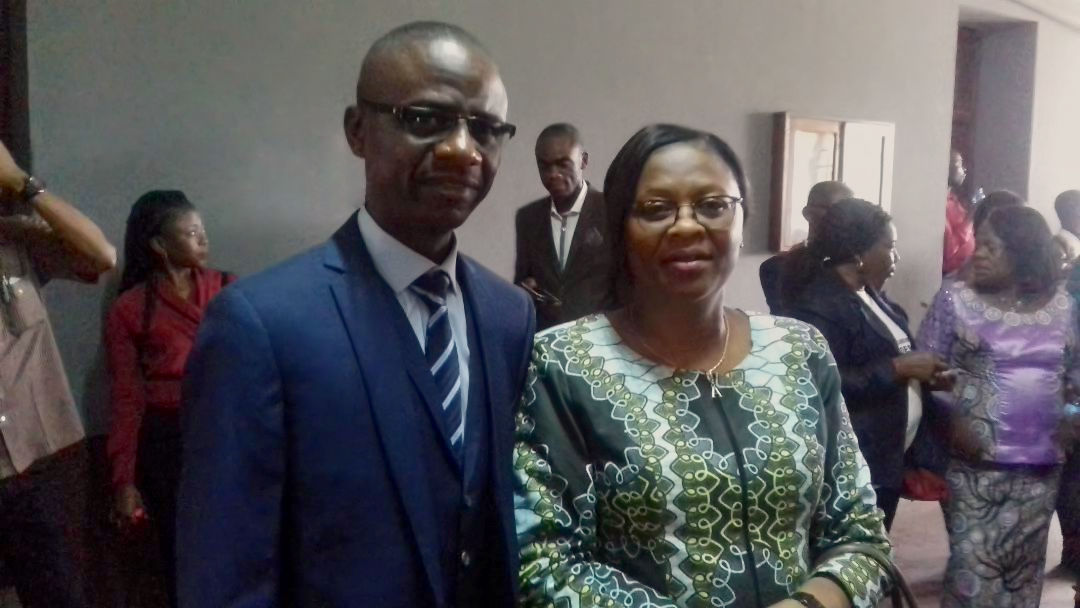 The work at the Mission for Vision clinic continues to provide care for people of lower income. It is also proving valuable as practical training space for CFOAC. We are also glad to see the clinic making steady progress towards becoming self-sustaining.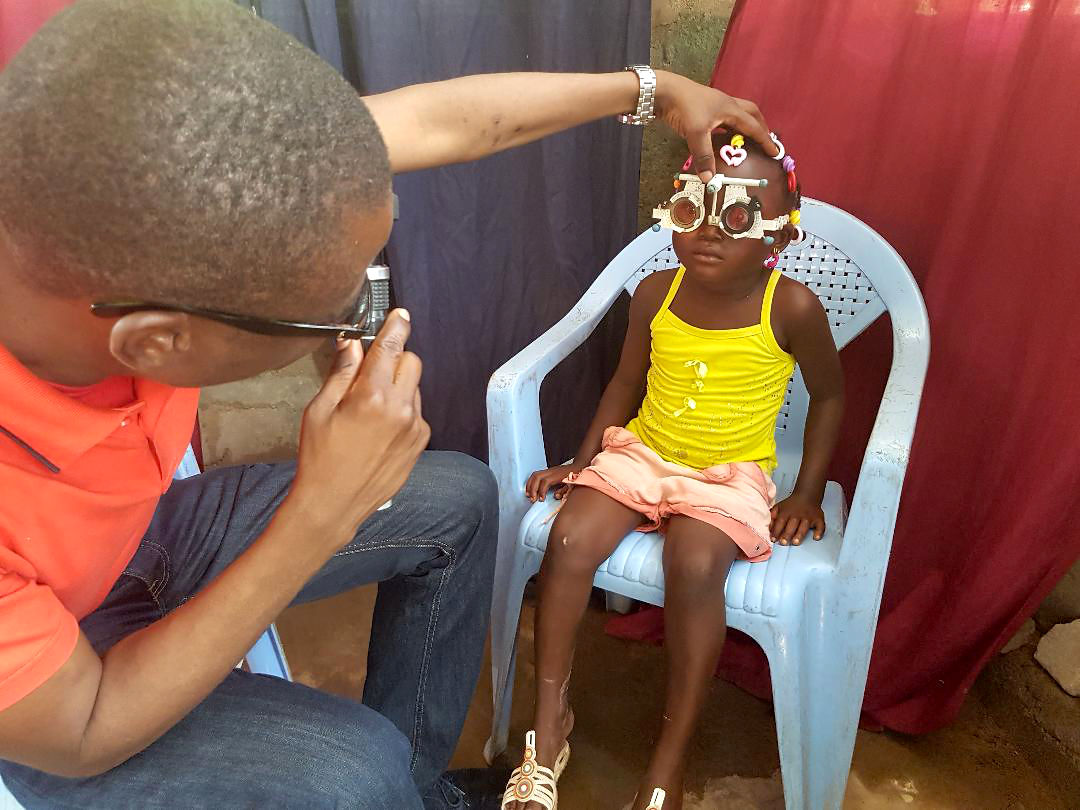 Dieudonné's next visit is planned for May 2019 which will include a new opportunity to do eye care outreach in a neighbouring area. More equipment has been donated to the clinic by Gary Evans of Eyetech. We will ship it to Kinshasa and plan our trip to be there to bring the shipment in through Congo customs.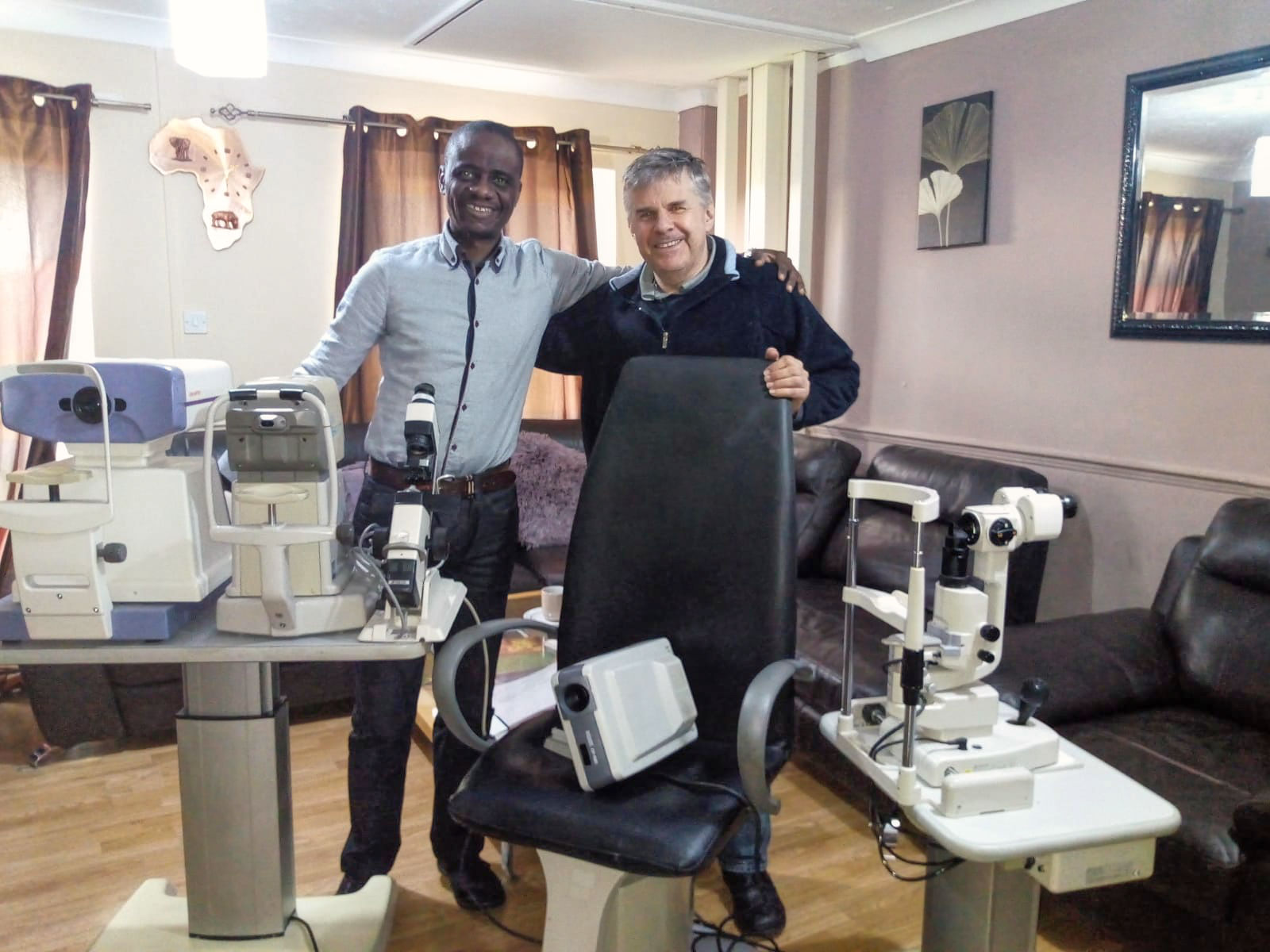 ---
November 2018: Optical Outreach to Sri Lanka
We were grateful to be able to support optician Tom Dawson and his team by supplying spectacles for use in their trip to Sri Lanka in the Autumn of 2018. In the spirit of our Founder, Ian Squire, Tom made use of his connections with new friends to bring eye care into remote and needy areas. Well done, Tom and all.
---
October 2018: Ian Squire, founder of Mission For Vision, 1960 - 2017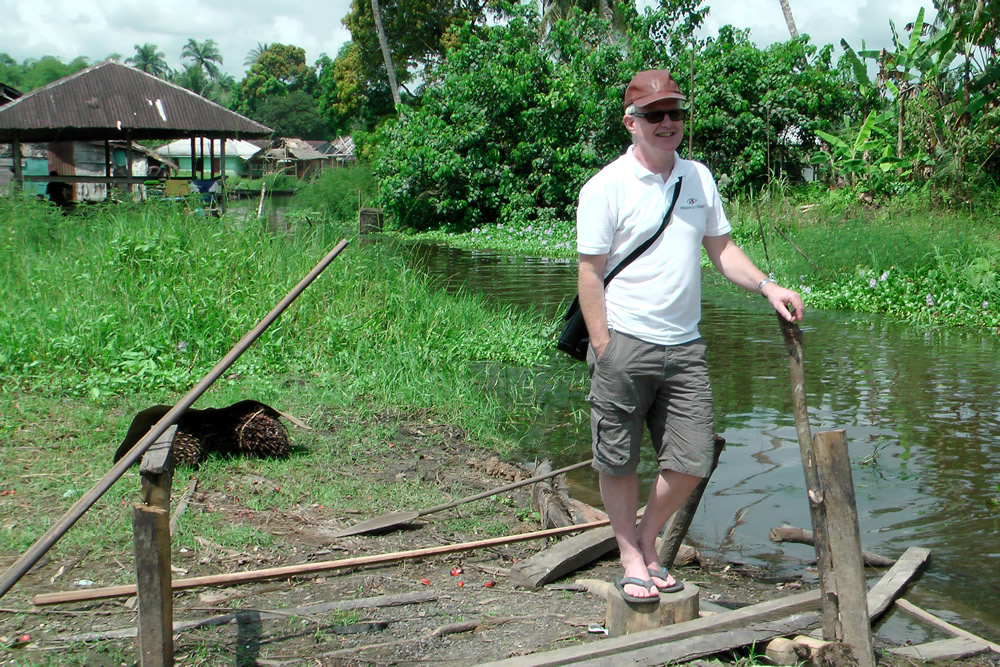 With ongoing sorrow we bring tribute to our friend and colleague, Ian Squire, who was killed 13th October 2017, while bringing eye care to the people of the Niger Delta. It's hard to believe that a year has gone by.
When we first heard the terrible news we were stunned. Of all people, we should have been first to express our gratitude and thanks for Ian. We had no words to express our loss.
Our grief and dismay increased as we experienced Ian's absence as the founder and visionary of Mission for Vision. Our words have been for ourselves, Ian's friends, and family, as we have struggled to come to terms with this loss.
We begin with giving thanks to God, acknowledging His good gift to us in Ian Squire. He was first of all a follower of Jesus Christ. He was 18 years old when he was saved and transformed into a servant of Christ. Later it was Jesus who put it on Ian's heart to bring that same hope to the poorest people by caring for their physical as well as their spiritual sight.
He had an adventurous spirit that led him to reach out to remote areas, primarily in Africa. Over the years, he was able to refine his work and tools to increase the quality of the services that the Mission for Vision teams were able to offer. His commitment to his faith enabled him to continue through many obstacles.
Ian began Mission For Vision with short-term outreach trips to test sight, make glasses, arrange for cataract surgery, preach the gospel, and baptise the new believers in Jesus. In the later years of his life Ian helped establish long-term vision centres; in Kinshasa, DR Congo with his friend, Optometrist Dieudonné Lumbi, and in Nigeria with New Foundations' Dr. David Donovan. His input and experience were invaluable support, crucial to launching ongoing works. To date, Mission For Vision has touched the lives of many thousands of people
On Ian's final trip to Nigeria he completed the training for the students at New Foundations. The evening before his return flight he presented the graduates with certificates of achievement. Later that night he and three others were taken captive. He was killed the next day.
As we remembered and looked back we saw striking evidence of God's providence. A year before the Nigeria trip Ian asked Dieudonné to switch roles with him and become the director of Mission For Vision. He himself moved to become treasurer. The succession of Mission For Vision was thus in place by the time of the Nigeria trip. Ever since Ian's memorial service we have been asked, "Is Mission For Vision still going?" The answer is, yes. We intend to carry on the work.
Every day we miss Ian; his faith, his encouragement, his optimism and his joy. Like all of us, he lived with things that perplexed him, but he did not let those things move him. He persevered by prayer and trust in God.
It is our hope to do the same. The work that Ian began is valuable to so many. Like seed planted, it is springing up with new opportunities, and will continue to do so. We thank God that He has allowed us to be a part of Ian's life and this very fruitful work.
---
September 2018: Kinshasa
In the last few months Dieudonné has been preparing for his trip to Congo September 12 - October 15. After his last trip he realised that his main goal is to get the CFOAC students through the rest of his theoretical teaching, the practical hands-on teaching at the eye clinic, and then their exams. His is the last module for the students. If he doesn't get them finished it will result in extra cost for the school and the students. Please pray that God enables him to teach and impart the skills that will enable this class to graduate. They will return to the provinces of D.R. Congo and other French-speaking African nations such as Gabon, Chad, and Benin, equipped to benefit their people.
---
Autumn 2017: D.R. Congo Albino Association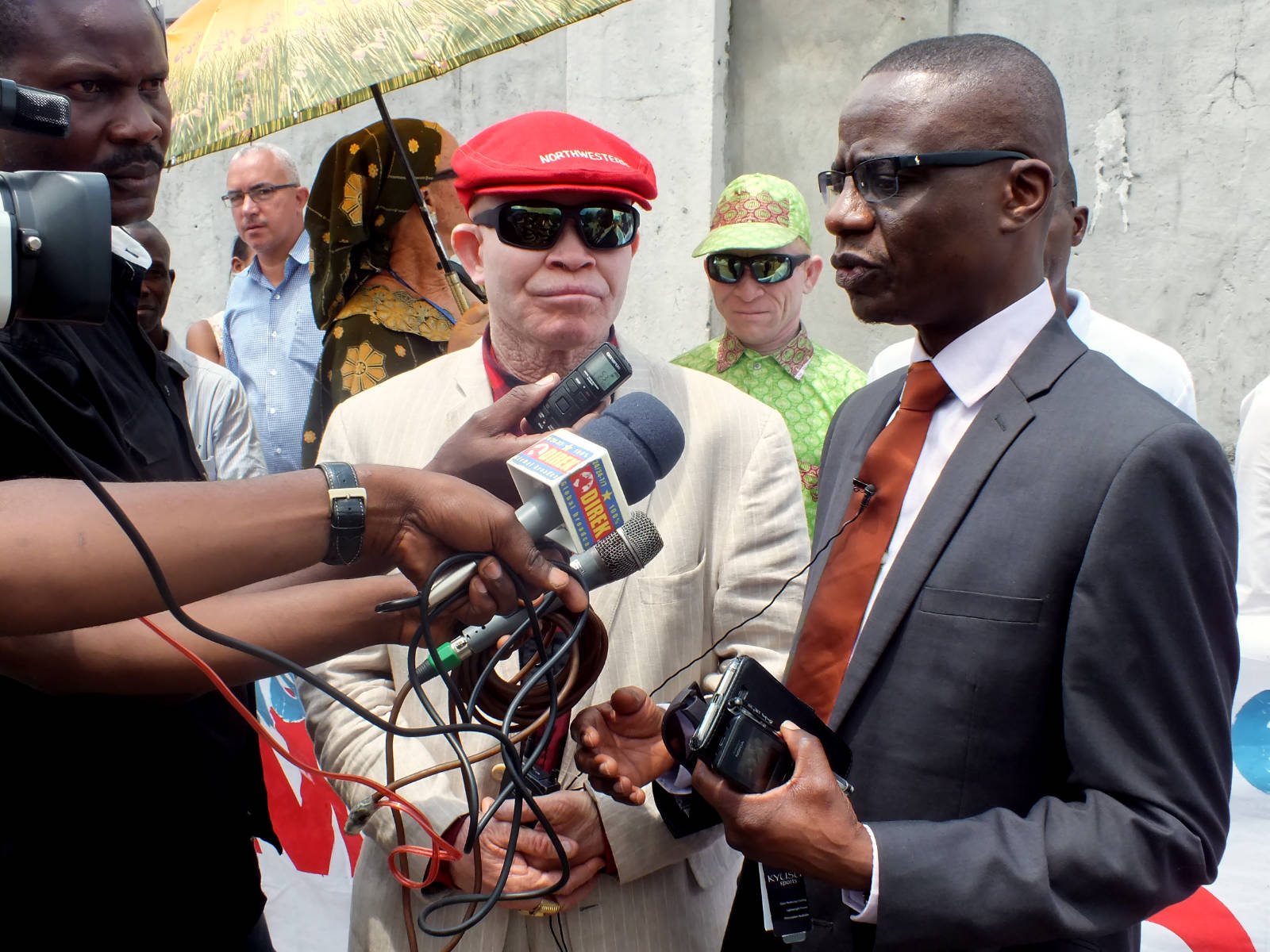 Dieudonné got in touch with the D.R. Congo Albino Association to give them 300 sunglasses. The bright African sun can damage their eyes because of their lack of pigmentation. This event was reported on TV and radio, giving good publicity for the clinic and more importantly for the occasion, spreading awareness for sun protection for Albinos' visual eye and visual health.
---
November 2017: In tribute to Ian Squire
by New Foundations
It is with great sadness that we report the tragic killing of Ian Squire, a dear friend of all at New Foundations who has selflessly given of time, resources and expertise over the past years to establish a Vision Centre at our Enekorogha Clinic.
---
March 2017: Kinshasa
Dieudonne has just returned from DR Congo where he has been promoting the Kinshasa clinic and continuing the training. He appeared on TV a number of times and was able to provide help and support to the albino community in Kinshasa.
---
May 2017: Kinshasa
In May Dieudonne will be returning with Rob Dingman who will be teaching a pastors conference which has become an annual fixture.
---
November 2017: The Delta in Nigeria
In November Ian will be returning to the Delta with Alex Tinson and David and Shirley of New Foundations. We hope to take an optometrist this year to provide training in retinoscopy and to carry out some mobile clinics in the surrounding villages.
---
November 2016: The Delta in Nigeria Trip
The next trip will be in November when Ian and Alex Tinson will be returning to The Delta in Nigeria with David and Shirley to work with New Foundations. A week of clinics will be carried out as a part of the training program for the local team there and Alex will be teaching at a pastors conference as a continuation of ministry carried out over the last two years. Alex has just returned from northern Uganda where he taught over 300 pastors from every denomination including many who travelled 70 kms by bike from South Sudan. Such was the hunger for the Word! We thank the Lord for what He is doing. Optometrist Stephen Avery will be working with Ian on some more training videos to take to the Delta and these will be added to the training section on the website later.
---
September 2016: Kenya
A team consisting of two optometrists a dispenser and three volunteers visited the Maasai community close to Narok about 5 hours drive from Nairobi. Missionary Ventures supplied the ground support and organised the itinerary and the team carried out clinics in three schools and two churches. The area was very remote so the population was quite sparse and spread out, but during the week 394 glasses were dispensed and 67 patients were referred for medical treatment including cataract surgery. This was paid for by donations received by Mission for Vision. It was wonderful to see lives being transformed as vision was restored. Ministry was also carried out at Kebabe Calvary Chapel church where the team was hosted on the final day.
---
March 2016: Future Missions
It's that time of year now when we start planning our next missions and to see who would like to serve the Lord on short term missions to Africa. Here are three possibilities this year and one for next year, more details can be found on the Future Missions page.
---
November 2015: The Delta in Nigeria Trip
UPDATE: Watch the video of the trip.
Mission for Vision is partnering with New Foundation Medical Missions who are based in a remote village in The Delta. This is our second trip and Ian Squire will be training members of the NF staff in the skills of subjective refraction and glazing. A container is currently on its way with more equipment and stock for the vision centre that is currently being set up. Alex Tinson will be teaching at a pastor's conference and this will be a follow up to a conference he did in 2013.
---
October 2015: Kinshasa
Dieudonne Lumbi will be returning to our Eye Clinic and Training Centre in Kinshasa, D R Congo. This is the last push to get the clinic up and running and we hope to train up to six students to competently carry out subjective refraction. The centre has been well equipped and is powered by solar energy so all we need now are the people to staff it. Dieudonne will be remaining in Kinshasa for 3 months and it is hoped that it won't be long before the centre will be able to sustain itself. Ian Collins who teaches optometry at the City University in London will also be joining Dieudonne to provide 10 days of lectures in December.
---
October 2015: South Africa Trip
UPDATE: Read about how the trip went on the South Africa 2015 page.
Arrangements are now in place for next month's mission to the Valley of a Thousand Hills in South Africa. Graeme Tucker is leading a team of five ladies, two of which are optometrists and one a dispensing optician, who will be working in three villages and an orphanage in this picturesque region close to Durban. Mission for Vision is partnering with Missionary Ventures who have field co-ordinators working in the region. Local pastors will be drafted in to provide ministry support.
---
17th May 2015: Ian White in Concert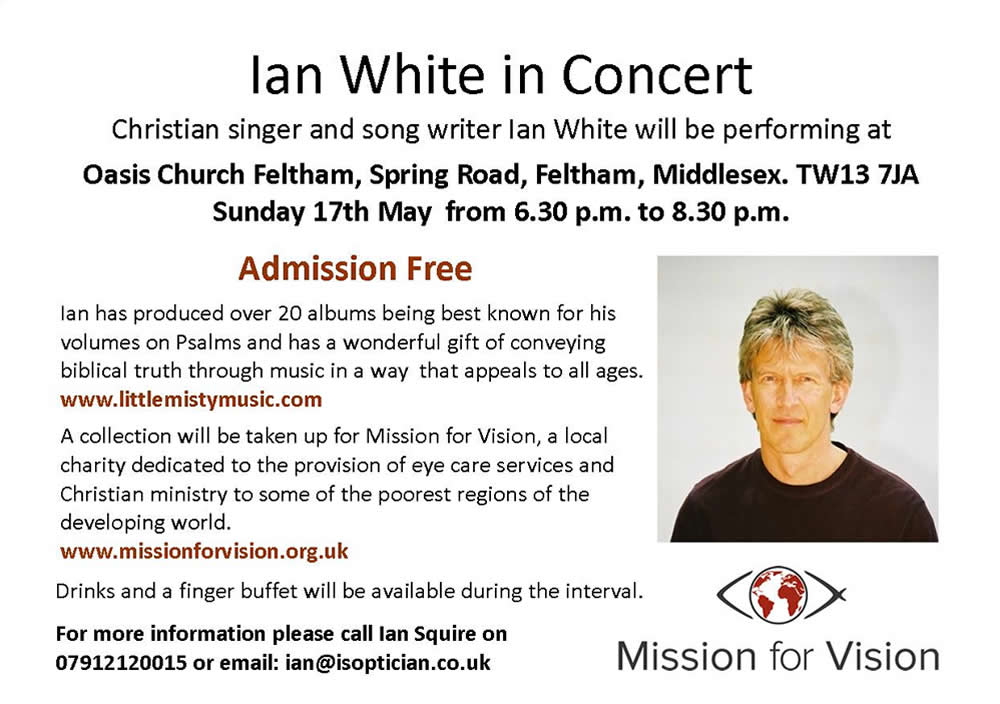 ---
February 2015: Kinshasa DR Congo Clinic
Mission for Vision's first training centre in optometry is almost ready to open in Kinshasa, D R Congo. All that is left to do is to install a solar panel system to enable the safe operation of the equipment, some external work on the building and we need to find a suitable vehicle. We hope to complete by the end of the year and then the training will begin.
The plan is to train local medically trained people to specialise in optometry to enable them to provide good basic primary eye care services. These services will be supplied at an affordable cost to the poorer population of Kinshasa but will generate sufficient revenue to make the centre financially self sustaining. Free eye care will be made available to the rural communities on a regular basis.
Eventually we intend to draw people from the rural communities to train them up and equip them to provide these essential services to the more remote areas.
We will be using optometrists to do the training and a comprehensive video training program has been produced to assist in these objectives.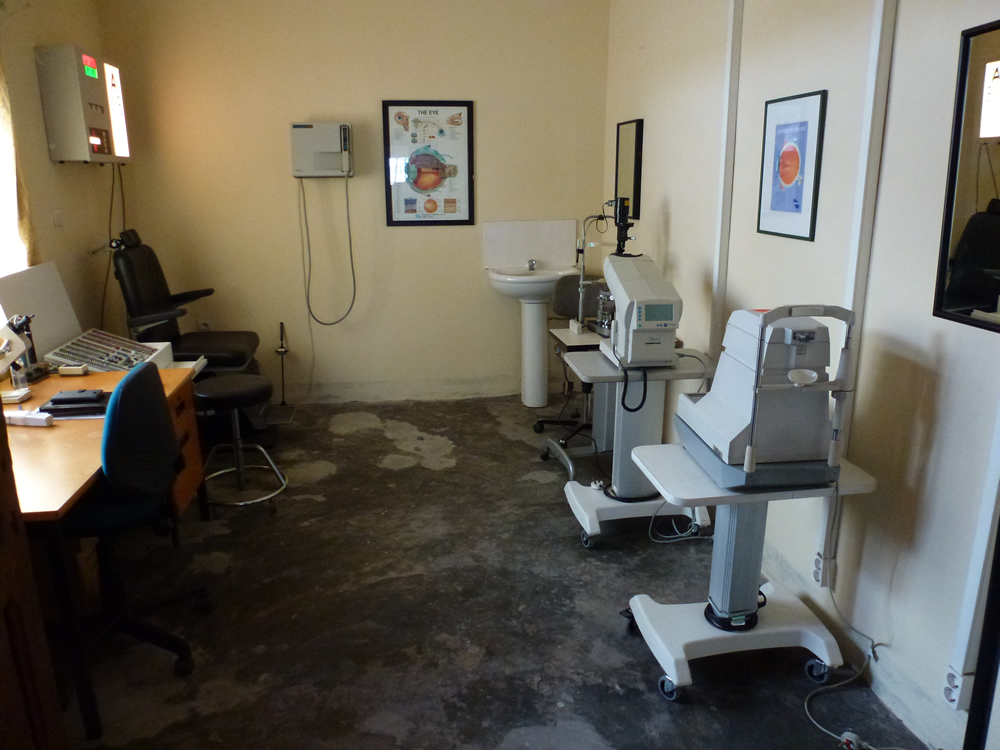 Consulting Room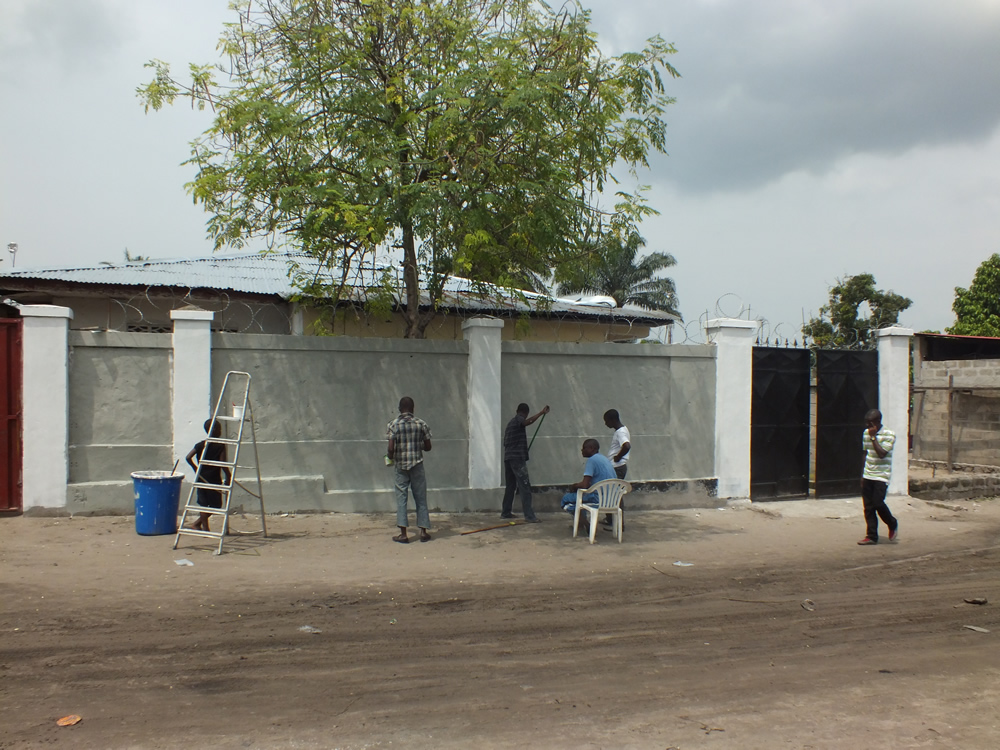 Eye Clinic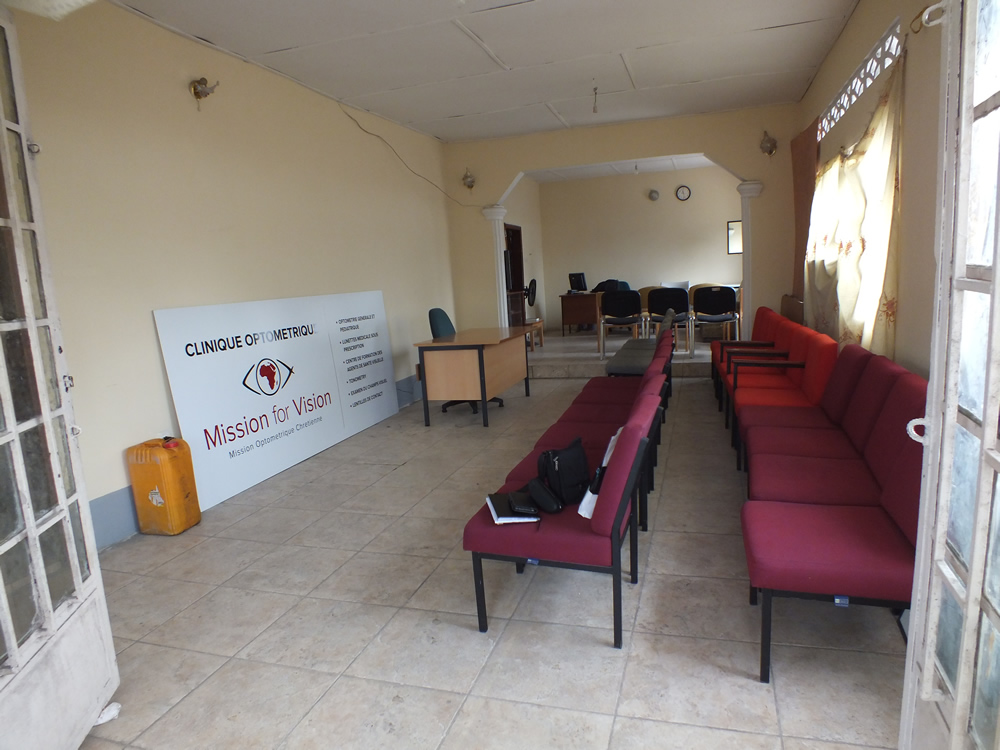 Waiting Area
---
DR Congo 2013
Mission for Vision appeared on TV several times in D R Congo during the mission. Eye care programs are rare in Kinshasa, a city that has virtually no facilities for such services.
---