Latest News
September 2018: Kinshasa
In the last few months Dieudonné has been preparing for his trip to Congo September 12 - October 15. After his last trip he realised that his main goal is to get the CFOAC students through the rest of his theoretical teaching, the practical hands-on teaching at the eye clinic, and then their exams. His is the last module for the students. If he doesn't get them finished it will result in extra cost for the school and the students. Please pray that God enables him to teach and impart the skills that will enable this class to graduate. They will return to the provinces of D.R. Congo and other French-speaking African nations such as Gabon, Chad, and Benin, equipped to benefit their people.
---
November 2017: In tribute to Ian Squire
by New Foundations
It is with great sadness that we report the tragic killing of Ian Squire, a dear friend of all at New Foundations who has selflessly given of time, resources and expertise over the past years to establish a Vision Centre at our Enekorogha Clinic.
---
March 2017: Kinshasa
Dieudonne has just returned from DR Congo where he has been promoting the Kinshasa clinic and continuing the training. He appeared on TV a number of times and was able to provide help and support to the albino community in Kinshasa.
---
May 2017: Kinshasa
In May Dieudonne will be returning with Rob Dingman who will be teaching a pastors conference which has become an annual fixture.
---
November 2017: The Delta in Nigeria
In November Ian will be returning to the Delta with Alex Tinson and David and Shirley of New Foundations. We hope to take an optometrist this year to provide training in retinoscopy and to carry out some mobile clinics in the surrounding villages.
---
November 2016: The Delta in Nigeria Trip
The next trip will be in November when Ian and Alex Tinson will be returning to The Delta in Nigeria with David and Shirley to work with New Foundations. A week of clinics will be carried out as a part of the training program for the local team there and Alex will be teaching at a pastors conference as a continuation of ministry carried out over the last two years. Alex has just returned from northern Uganda where he taught over 300 pastors from every denomination including many who travelled 70 kms by bike from South Sudan. Such was the hunger for the Word! We thank the Lord for what He is doing. Optometrist Stephen Avery will be working with Ian on some more training videos to take to the Delta and these will be added to the training section on the website later.
---
September 2016: Kenya
A team consisting of two optometrists a dispenser and three volunteers visited the Maasai community close to Narok about 5 hours drive from Nairobi. Missionary Ventures supplied the ground support and organised the itinerary and the team carried out clinics in three schools and two churches. The area was very remote so the population was quite sparse and spread out, but during the week 394 glasses were dispensed and 67 patients were referred for medical treatment including cataract surgery. This was paid for by donations received by Mission for Vision. It was wonderful to see lives being transformed as vision was restored. Ministry was also carried out at Kebabe Calvary Chapel church where the team was hosted on the final day.
---
March 2016: Future Missions
It's that time of year now when we start planning our next missions and to see who would like to serve the Lord on short term missions to Africa. Here are three possibilities this year and one for next year, more details can be found on the Future Missions page.
---
November 2015: The Delta in Nigeria Trip
UPDATE: Watch the video of the trip.
Mission for Vision is partnering with New Foundation Medical Missions who are based in a remote village in The Delta. This is our second trip and Ian Squire will be training members of the NF staff in the skills of subjective refraction and glazing. A container is currently on its way with more equipment and stock for the vision centre that is currently being set up. Alex Tinson will be teaching at a pastor's conference and this will be a follow up to a conference he did in 2013.
---
October 2015: Kinshasa
Dieudonne Lumbi will be returning to our Eye Clinic and Training Centre in Kinshasa, D R Congo. This is the last push to get the clinic up and running and we hope to train up to six students to competently carry out subjective refraction. The centre has been well equipped and is powered by solar energy so all we need now are the people to staff it. Dieudonne will be remaining in Kinshasa for 3 months and it is hoped that it won't be long before the centre will be able to sustain itself. Ian Collins who teaches optometry at the City University in London will also be joining Dieudonne to provide 10 days of lectures in December.
---
October 2015: South Africa Trip
UPDATE: Read about how the trip went on the South Africa 2015 page.
Arrangements are now in place for next month's mission to the Valley of a Thousand Hills in South Africa. Graeme Tucker is leading a team of five ladies, two of which are optometrists and one a dispensing optician, who will be working in three villages and an orphanage in this picturesque region close to Durban. Mission for Vision is partnering with Missionary Ventures who have field co-ordinators working in the region. Local pastors will be drafted in to provide ministry support.
---
17th May 2015: Ian White in Concert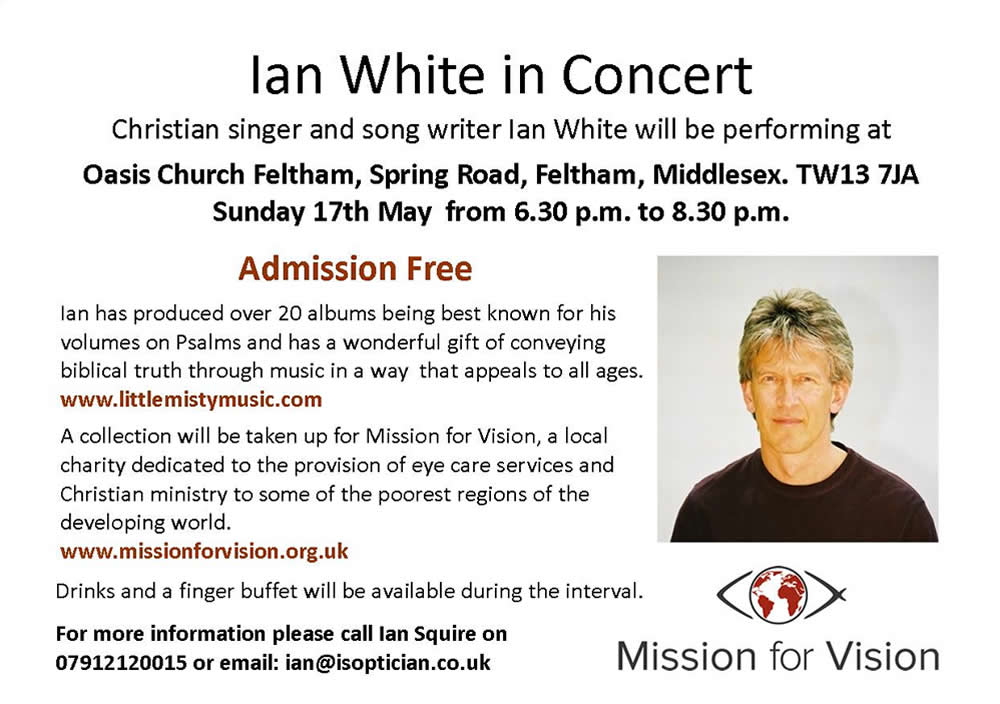 ---
February 2015: Kinshasa DR Congo Clinic
Mission for Vision's first training centre in optometry is almost ready to open in Kinshasa, D R Congo. All that is left to do is to install a solar panel system to enable the safe operation of the equipment, some external work on the building and we need to find a suitable vehicle. We hope to complete by the end of the year and then the training will begin.
The plan is to train local medically trained people to specialise in optometry to enable them to provide good basic primary eye care services. These services will be supplied at an affordable cost to the poorer population of Kinshasa but will generate sufficient revenue to make the centre financially self sustaining. Free eye care will be made available to the rural communities on a regular basis.
Eventually we intend to draw people from the rural communities to train them up and equip them to provide these essential services to the more remote areas.
We will be using optometrists to do the training and a comprehensive video training program has been produced to assist in these objectives.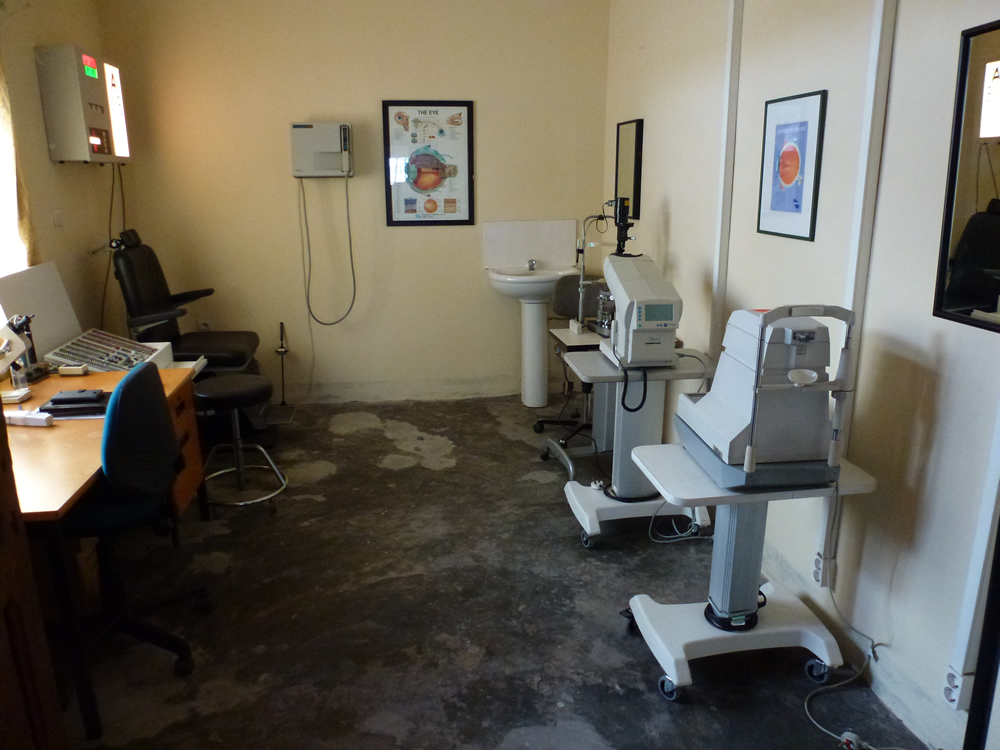 Consulting Room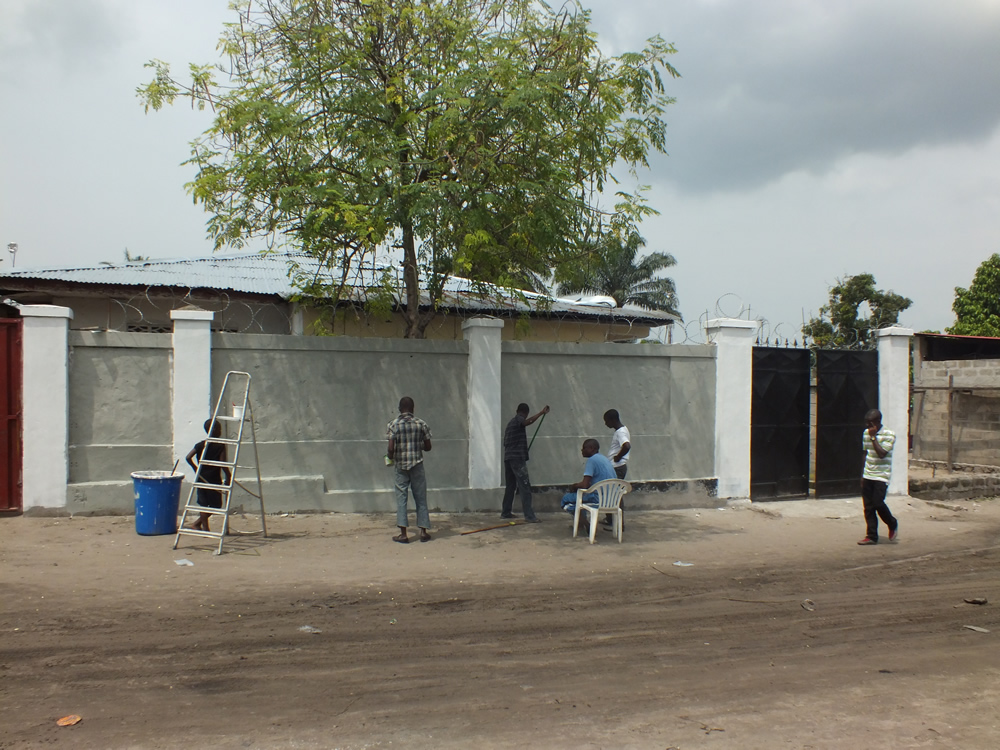 Eye Clinic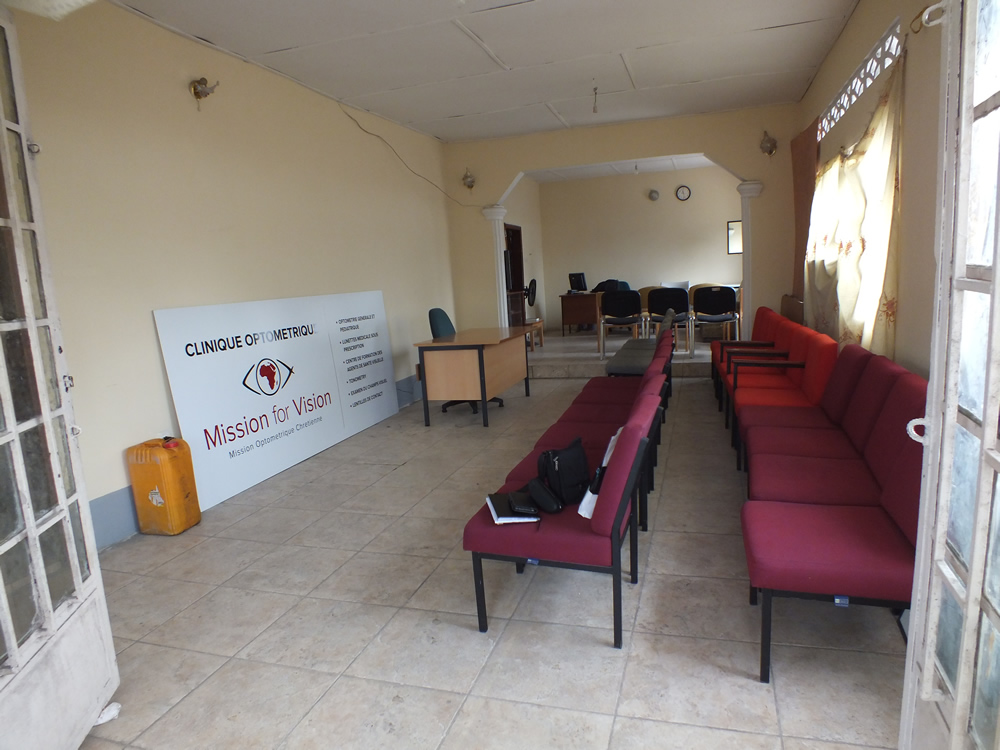 Waiting Area
---
DR Congo 2013
Mission for Vision appeared on TV several times in D R Congo during the mission. Eye care programs are rare in Kinshasa, a city that has virtually no facilities for such services.
---